Riskex asks: Covid-19 virus in second-hand smoke and vapour?
MARK DELO – CEO Riskex Ltd.   "During lockdown I have walked most evenings and have not seen many people out and about.   Traffic levels reduced and streets empty, it has been a quiet and refreshing experience because I live in the noisy and cramped confines of Gibraltar.
Now we are coming out of lockdown, one of my main concerns is the exposure to the COVID-19 virus.   The 2-metre rule that is being bandied around the world as a way of controlling exposure is going to be difficult to adhere to.  Our Rock is two and a half miles long, has over 35,000 people living on it, and is basically a network of narrow streets packed with people, scooters, bicycles and cars.
Add to this the fact we have our fair share of smokers, and probably the cheapest fags in Europe, and as a non-smoker, I start to worry.
Exhaling smoke and vapour
According to medical experts, a smoker infected with COVID-19 can exhale the virus in the smoke they breathe out.   This makes breathing second-hand smoke an even bigger infection risk for all.   Add to that the huge vapour clouds from those that swapped smoking for vaping, and I am worried Gibraltar might need to seriously consider what this could mean for its population.
Smokers more at risk
All governments have advised smokers and those vaping to try and give up the habit, but even as a non-smoker I realise how difficult that is for those hooked.   It seems COVID-19 attaches more of its club-shaped projections to smokers' lungs, making them likely to be more easily infected and sicker.  Smokers who are infected are likely to be sicker for longer by virtue of the fact their lungs are damaged.  If a smoker or e-cigarette user is asymptomatic and does not know they are infected, the reality that the nightmare could come true is very worrying.
I read one warning from doctors recommending that if a neighbour smokes, make sure to close windows to block the smoke from coming into your home.   With a warning like that, it does make me fear coming into close contact with friends that smoke and vape.
Close encounter
Whilst on a walk up the Rock at the weekend, we passed close to a number of walkers, as it is virtually impossible to keep even a metre away on a walking track (see pic).   One such individual passed by and was holding an e-cigarette.   He was about 30 metres distant when I saw a big cloud of vapour rise above him.   Within seconds I could smell the scent of the vapour, which basically meant I had inhaled a small fraction of the vapour.   The scent and vapour are chemical-based, although we are talking parts per million levels.  I do wonder where the research is regarding COVID-19 exposure from smoke and vapour.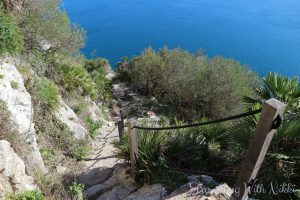 Second-hand inhalation
When you see someone exhale vapour and smell the scent, you are effectively inhaling some of that person's second-hand vapour aerosol, and that could ultimately infect you with COVID-19.  The same goes for smelling second-hand smoke – if a smoker is infected with COVID-19, it is possible the smoke the individual breathes out can carry the virus and infect others nearby.
COVID-19 is a vicious virus and we know so little about how to control it.   However, one thing we have learned over the past few months is that we need to become proactive when it comes to control, not reactive when we realise we have a problem.
Call to ban smoking and vaping in public places
With the information above, I believe there is a strong case for banning smoking and vaping in public places, where there is a risk to others inhaling second-hand smoke and vapour."
MARK DELO – CEO Riskex Ltd
—————————————————————————————————————————————————–

The tool to help your people back to work safely – Fit2Work by Riskex
What is Fit2Work?
Using Fit2Work, employees complete a 30-second questionnaire, which can be done daily, answering simple questions to declare their health status.  These results display in a dashboard, giving managers real-time stats, showing percentages of their workforce in different categories.
Identify who is "Fit to Work"
With Government guidelines constantly being updated, there is a pressing need to safely emerge from lockdown and get people back to the workplace.
Fit2Work helps restore confidence – both for employees, who know their employer is taking action, and for customers who can be confident about the health status of anyone visiting.
There's no time to lose
Steve Blaydon, Business Process Manager at Miniclipper Logistics said,
"Riskex has provided MiniClipper Logistics with their free AssessNET Covid-19 Health Assessment module.  It is proving to be a very useful tool indeed.  So easy to use, great status dashboard, user friendly with a quick and simple process to follow."
Use Fit2Work yourself
Don't delay!  For more information, and to sign up for full access: